Duration
02 Days / 01 Night
Availability
01 Aug. – 17 Dec. 2021
Tourists spending their vacations in Egypt who are fond of pyramids! Will enjoy this pyramids tour of Cairo. You would be visiting three major sites of pyramids around greater Cairo.
There are three major sites of pyramids around greater Cairo. The first is the Pyramids of Giza, the second is Saqqara with the marvelous Step Pyramid of Djoser, and the third is Dahshour where King Senfru constructed a number of remarkable pyramids.
You will definitely enjoy this great tour with all these historical and magnificent establishments of Cairo.
 Itinerary
Day 01: Pyramids Tour of Cairo
You will be welcomed by our skillful and experienced tour guide in your hotel to guarantee you the best travel services.
You will move on in modern comfortable vehicles to begin this marvelous Pyramids tour of Cairo.
Let's start discovering the pyramids' mysteries by visiting the Great Pyramids of Giza. This is the most astonishing architectural achievement of the Pharaohs. Built during the 25th century BC, these huge three pyramids were the royal tombs of the kings of the 4th dynasty. You will experience the royalty feeling.
Move on with this marvelous short tour of Cairo and visit Saqqara city, the burial site of ancient Egypt that was founded in the Old Kingdom. The centerpiece of Saqqara is the Step Pyramid of Djoser, the first pyramid to be constructed in Egypt and the oldest surviving stone-built structure in human history. There are also many ancient tombs and several pyramids.
After such great visits, it's now the time to have some rest and enjoy lunch in one of the finest restaurants around Cairo.
Your last visit for today is to the Pyramids of Dahshur. This Place has a great story when King's Senfru project in Meidum failed, he resorted to Dahshour where he constructed two amazing pyramids. The first is the famous bent pyramid while the
second is what historians called the Red Pyramid which is the second-largest pyramid all over Egypt after the Grand Pyramid of Cheops in Giza. This made it more exciting to visit.
At the end of this great pyramids tour, you will dive back to your beloved hotel in Cairo to relax and share today's moments.
Day 02: Tour to Egyptian Museum, Citadel, Bazaar & deparure
Morning Breakfast at your Hotel Restaurant check out, then at 8:00 am Pickup from your Hotel to Begin your Entire day visit visiting the Egyptian Museum of Antiquities. It shows the biggest and most valuable things of the Egyptian workmanship on the planet. It displays an uncommon assortment of more than 250,000 veritable ancient rarities that date as far back as 5000 years, including an elite show devoted to the Tutankhamen – An assortment of fortunes, gold, and gems that were covered in his burial chamber for more than 3,500 years before they were found during the 1920s when his burial chamber was unearthed.
At that point Move to Fortification of Saladin Where you visit one of the most mosque in Cairo that Calls Mohamed Ali Mosque or the Alabaster Mosque its equivalent plan of the Blue Mosque in Turkey however this one is littler than the Blue Mosque
Lunch is remembered for between visits at Neighborhood Café Dependent on Full Dinner for every Individual except Refreshments are excluded
At that point visit Khan El Khalili Bazaars. Shops in this area are incredible for fine metal product, copper, aromas, cowhide, silver, gold, and collectibles and so forth.
At the end of your tour, you will be transfer to Cairo airport for your final departure.
Include
1 Night accommodation in Cairo at 4* hotel on bed and breakfast basis.
1 full day tour in Cairo visiting Great pyramids, Sphinx, Sakkara & Memphis, the step Pyramids of King Zoser.
1 full day tour in Cairo visiting the Egyptian Museum, citadel & Khan El Khalili Bazaars.
All Transfers in Cairo.
All your tours and excursions are with A/C bus.
The service of meet and assist at all your destinations.
Multilingual expert Egyptologist guide.
All your visits include entrance fees.
Our prices include all taxes and services
Exclude
International Airfare
Visa, we can provide you with your visa upon arrival at your request.
Any optional tours
Tips and personal expanses
Drinks and any other expenses
Tipping
Similar Tours
This Cairo and Sharm el sheikh holiday is what you ...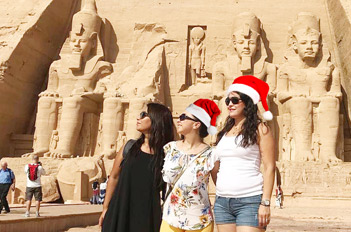 This is your opportunity to enjoy have a wonderful ...
You will have a super vacation in this Cairo tour ...