There are several reasons to spend your Christmas Holidays in Egypt. The first reason to book Egypt Christmas tours is that the land of the Nile offers magnificent weather in the winter.
Many travelers tend to go on Egypt New Year tours, as the country is warm, while the rest of the world is chilly and freezing. Tourists would be having a great time on their vacation.
There are many choices as well for Egypt Christmas holidays. Tourists can go for a Nile Cruise journey to enjoy luxurious services and facilities. Nile cruises also offer a fully integrated program to visit all the major historical monuments in Southern Egypt, in Luxor and Aswan. 
Another wonderful idea for an amazing Egypt Christmas holidays is to go on a classical tour to Egypt. You would be discovering the highlights of Cairo, the Egyptian capital, with the Pyramids of Giza, the Egyptian Museum, Saladin Citadel, and much more.
This vacation can be extended to include two or three nights on the shores of the Red Sea in cities like Hurghada or Sharm El Sheikh to maximize the fun!
This Cairo and Sharm el sheikh holiday is what you ...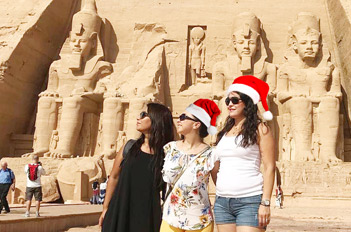 This is your opportunity to enjoy have a wonderful ...
This Egypt travel package has all that you need to ...