Duration
05 Days / 04 Nights
A marvelous tour to Cairo and Luxor by sleeper train is waiting for you.  Having a special vacation in Egypt with very reasonable prices.
In this tour, you will be visiting all the highlights of Cairo and Luxor in one perfectly organized Egypt tour.
You will enjoy your vacation and discover the whole of Egypt with the best prices and the finest value for money. Don't miss this golden chance to have this amazingly designed Egypt tour.
 Itinerary
Day 01: Arrive to Cairo International airport.
Our tour representative will be welcoming you at the very beginning of this interesting tour upon your arrival at the Cairo International Airport.
He will take you in the best vehicles in Egypt to the hotel of your choice in Cairo.
You will Check-in the hotel to get some rest after a long flight, we need you fresh and excited for tomorrow.
Day 02: Full Day Tour Giza Pyramids & Egyptian Museum – Sleeping train to Luxor
Begin your morning with the best breakfast at your hotel.
Then start your visits on this amazing tour to Cairo and Luxor by discovering the secrets of The Great Pyramids of Giza, the most amazing architecture of ancient Egypt. These huge startling structures served as the tombs of the kings of Egypt. Constructed in the 25th century BC, the construction of the pyramids is still a mystery until today.
After such a mysterious visit you will be enjoying lunch in one of the best local restaurants in Cairo, nothing beats the Egyptian food.
As the next step on this great tour, you will be visiting the Egyptian Museum. This is the biggest museum in the region and hosts the largest collection of ancient Egyptian displays. The Egyptian museum is never to be missed by any travelers who spend their vacations in Egypt.
At the end, you will be heading towards Ramses train station to take the sleeper train directly to Luxor.
You will spend the night at the sleeper train, you will enjoy your dinner while trying the Egyptian train. 
Day 03: Full Day East & West Bank of Luxor
In the early morning, you will be enjoying your breakfast at the sleeper train hotel to get ready for the rest of this magnificent tour of Cairo and Luxor.
Upon your arrival in Luxor, you will meet our tour guide who will guide you to your visits in Luxor.
First, you will be visiting the West Bank of Luxor and start with the Valley of the Kings. This ancient burial site was used for more than 500 years to host the dead bodies of the kings of Egypt starting from the 16th century BC. The most impressive tombs belong to Tut Ankh Amun, Thutmose III, and Ramses III
Second, you will explore the beauty of the Temple of Hatshepsut. This is considered among the best examples of mortuary temples to be built in Egypt. It was established by Queen Hatshepsut for more than 3500 years. It also has some magnificent sections and details that will amaze you.
For discovering some mysteries you will have to visit the Colossi of Memnon. These two huge 18 meters statues used to decorate the entrance of a huge mortuary temple established more than 3500 years ago by Amenhotep III. They took their famous name during the Roman period.
You will spend your relaxing time at one of the best local restaurants in Luxor to have your special lunch.
The second part of today's tour will be at the most marvelous highlights of the East Bank of Luxor which will begin by exploring The Karnak Temple, the largest and most amazing temple of ancient Egypt. The construction of this marvelous temple took more than 2000 years to be completed as each king of Egypt wanted his own contribution to be added to the Karnak.
It's very common to visit The Luxor Temple directly after visiting the Karnak Temple. This was called the Southern sanctuary in ancient Egypt as it was linked to the Karnak Temple via the avenue of sphinxes. Established during the 15th century BC, the Luxor Temple is featured with a huge variety of sections, styles, and layouts.
When you finish today's visits you will return back to Luxor train station to take the sleeper train back to Cairo.
You will have your dinner while you're spending the night at the sleeper train.
Day 04: Free day in Cairo
Today will be a special day, our representative will meet you at the train station in Cairo to take you to your hotel for having some rest before starting your special day.
This day is just for enjoying your time in Cairo at leisure. A free day in the capital of Egypt is a great chance to discover the real Egypt.
Tonight you better get relax at your hotel and share all these memories and funny situation together.
Day 05: Final Departure
Don't miss your delicious breakfast at your hotel for a fresh morning.
Then prepare yourself for the check-out of the hotel in Cairo.
After enjoying a wonderful tour to Cairo and Luxor and making lots of memories, you will be heading to the Cairo International Airport to take the flight back home.
Include
2 Nights hotel accommodation in Cairo on bed and breakfast basis.
2 Nights sleeper train on Half Board basis
1 Day tour in Cairo visiting the Egyptian Museum, Pyramids, Sphinx
1 Day visiting Luxor East & West Banks
Expert tour guide
All your tours and excursions are by an A/C vehicle
The service of meet and assist at all your destinations
All your visits include entrance fees
Our prices include all taxes and services
Exclude
International Airfare
Visa, we can provide you with your visa upon arrival at your request.
Any optional tours
Tips and personal expanses
Drinks and any other expenses
Tipping
Similar Tours
This Cairo and Sharm el sheikh holiday is what you ...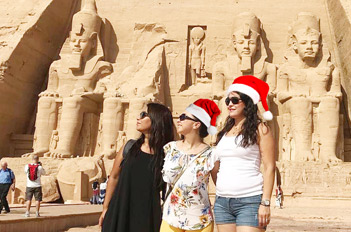 This is your opportunity to enjoy have a wonderful ...
You will have a super vacation in this Cairo tour ...