Duration
09 Days / 08 Nights
We brought to you a wonderful tour to Cairo and Sharm El Sheikh to enjoy a Red Sea vacation in Egypt.
You will be spending 4 nights in Cairo visiting all the highlights of the Egyptian capital. plus another 4 nights in Sharm El Sheikh in the best beach vacation ever in Egypt.
If you're fond of monuments, ancient history, and the beauty of the beaches, This tour is just perfect for you.
 Itinerary
Day 01: Arrive to Cairo International Airport.
Your tour will start by meeting our tour guide at the Cairo International Airport who will deliver you to the hotel in Cairo in  air-conditioned and private vehicles.
You will enjoy checking Cairo streets and the walking Egyptian people until you reach the hotel. Check-in and get rest from this long flight to be ready for tomorrow's adventure.
Day 02: Full Day Tour Giza Pyramids, Saqqara Complex & Memphis City
Start your second day with a delicious breakfast in the hotel then get ready for this wonderful Cairo and Sharm El Sheikh tour. 
The Great Pyramids of Giza will be the very first destination in Cairo as it is the most astonishing architectural achievement of the Pharaohs. These huge three pyramids are so amazing because they were the royal tombs of the kings of the 4th dynasty.
After this wonderful visit you will definitely feel hungry, so what about having lunch in one of the finest local restaurants in Cairo.  
Let's continue our tour by visiting Saqqara which is one of the most interesting ancient historical sites in Egypt. This city is so great because it was the royal necropolis of the ancient Egyptians during the ruling period of the Old Kingdom, plus it has the first pyramid in Egypt which is the Step Pyramid of Djoser.  
Let the fun begin by starting your Nile Cruise tour to Memphis city. This city is there from more than 5000 years ago as the first capital of unified Egypt. It also has an open-air museum that dates to the New Kingdom.
Today's adventure is finished and you will drive back to the hotel to spend the night and prepare for tomorrow's.
Day 03: Full Day Tour to Egyptian Museum, Citadel of Saladin & Khan El Khalili Market.
Have a great morning enjoying breakfast at your hotel.
Be ready for the first visit of today which is to The Egyptian Museum. This incredible place is one of the largest and most interesting in the world with around 120,000 displays. You will enjoy this visit as you are spending a journey in ancient Egypt's history.
The next visit at this magnificent Egypt travel package would be to the Citadel of Saladin. This huge building was constructed by the famous army leader and king, Saladin over 1000 years ago. Today, the main highlight of this citadel is the Mosque of Mohamed Ali.
The best part of today is shopping at Khan El Khalili. It is the largest tourist market in the region that sells all types of gifts and souvenirs. This place is there from the 13th century which gives the market some legacy.
Here you reached the end of the day when you will get back to your beloved hotel talking about today's adventure.
Day 04: Internal Flight to Sharm El Sheikh
Start your morning by enjoying breakfast and then go for the check out because we are heading for another interesting place.
You be transferred to the Cairo International Airport again, but this time to take the flight to the charming city, Sharm El Sheikh.
in around an hour you will arrive in Sharm El Sheikh, our tour representative would be welcoming you at the airport and guide you to your preferred hotel.
Enjoy spending the night at the hotel and stay excited about the coming adventures.
Day 05: Free Day in Sharm El Sheikh
You will definitely enjoy your vacation in Sharm El Sheikh because it is famous all over the world for the marvelous coral reefs, aquatic creatures, and various wonderful types of fishes.
You're free to choose your day's activities from our distinctive optional tours in Sharm El Sheikh.
After a long exciting day, you will be heading to spend the night at your hotel.
Day 06: Free Day in Sharm El Sheikh
Sharm El Sheikh is a wonderful spot for diving, snorkeling, windsurfing, and doing all sorts of sea activities even just chilling out on the beach.
Based on your preferences you will have the chance to choose what you're excited about for today's adventure from our distinctive optional tours in Sharm El Sheikh.
Let's end the day by getting some rest at your beloved hotel in Sharm El Sheikh.
Day 07: Free Day in Sharm El Sheikh
Enjoying Sharm El Sheikh Activity has no end. To be able to have all sorts of sea activities you have to choose your preferences from our distinctive optional tours in Sharm El Sheikh.
Get some rest at the hotel to be ready for tomorrow's fun.
Day 08: Travel to Cairo from Sharm El Sheikh
You will miss nothing of Sharm El Sheikh Excitement, every day you had a new list of activities and places to choose from.
Today will be shorter than the previous ones as you will be heading to the Sharm El Sheikh Airport at the end to take the flight to Cairo.
Reach your hotel in Cairo safely and start sharing all the tour's memories together.
Day 09: Final Departure
Make sure to have your delicious breakfast at the hotel before starting to pick up your luggage and sadly check out to leave Cairo.
You will be transferred with all the great memories you had in this place to the Cairo Airport to take the flight back home and hoping to visit again for such a wonderful tour to Cairo and Sharm El Sheikh.
Have a safe flight.
Include
Private A/C transportation
Round Trip airport transfers with qualified drivers
04 nights' accommodation at your chosen hotel in Cairo – on B/B basis
04 nights' accommodation at your chosen hotel in Sharm El Sheikh – on SAI basis
All Entrance fees for sights mentioned in the Itinerary
An English speaking Tour Guide
One Bottle of Mineral Water for each person
Lunch Meal at a Local Restaurant
All taxes.
Exclude
International Airfare
Visa, we can provide you with your visa upon arrival at your request.
Any optional tours
Tips and personal expanses
Drinks and any other expenses
Tipping
Similar Tours
This Cairo and Sharm el sheikh holiday is what you ...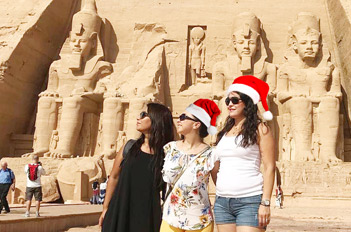 This is your opportunity to enjoy have a wonderful ...
You will have a super vacation in this Cairo tour ...